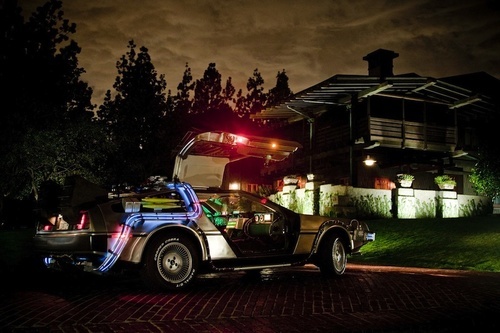 This makes my eyeballs very happy. This is the absolute most realistic BTTF DeLorean we have ever seen. It's probably the most realistic one that exists. Period. And it's on eBay. So you could own this baby. Starting Bid is $89,000.00. You might recognize the house too as the photo shoot took place at the Pasadena home that was once Doc Brown's.
This 1981 DeLorean DMC-12 was built by Gary Weaver, a Back to the Future fan who is also apparently the authority on DeLorean time-machine replicas. He also owns BTTFparts.com, which I'm sure helped tremendously. Even so, this car took six years to complete.

We're talking countless hours of research, not just construction. Everything from the speedometer to the programmable time circuits is accurate. It makes you fall in love with the car all over again.
Back To The Future, DeLorean, eBay, replica