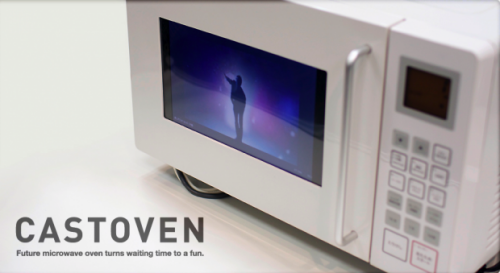 A couple of boffins from Japan's Keio University didn't have enough YouTube in their lives, so they have developed a microwave aimed at other geeks just like them. I'm talking a YouTube-powered microwave. Because heating up those hotpockets can get boring.
The "Castoven" is based on a conventional, unbranded model of "good quality" and features a 10.4-inch LCD screen in the door panel and speakers. It's connected to a Mac, but could easily work with Windows computers as well.

The idea is to display a YouTube video whose length matches the time you need to heat up what's cookin. So if you want to cook a hotpocket for 1 minute and 5 seconds, the Castoven would automatically pull a video from YouTube with that length and put it on the screen. When the Cute kitty video stops, your food is done.
castoven, microwave, video, YouTube