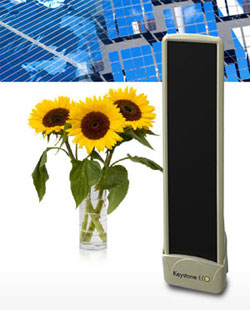 I have seen some odd devices before that pull double duty as items that don't seem to go together at all. One good example is this new Keystone Eco Tag solar charger that also acts as a luggage tag with an area for written information to be penciled in.
When working as a gadget charger the device can charge up a pair of AAA batteries and sports a USB connection for directly attaching gadgets for charging. The device can charge connected items in four hours of direct sunlight or with eight hours of indirect sunlight.
I guess the idea is that with the thing connected to your bag as a luggage tag you will have it handy to keep your gear charged up while waiting at the airport. The device will ship in February 2010 for $35.
solar charger