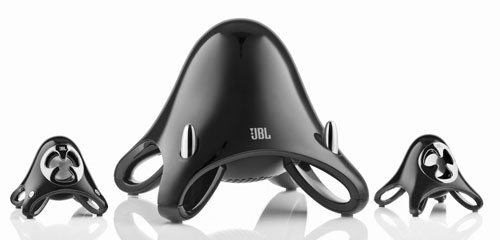 Some folks like quirky things. These folks eschew the average and normal in favor of something that is different and cool. Personally, I just like things that are cool and the JBL Creature II speakers I used to own were certainly cool. JBL announced its new Creature III speakers today.
The new speakers share a close resemblance to the previous version and look like ghosts from Pac Man. JBL calls them Sci-Fi inspired. The speakers are a 2.1 system with a pair of satellites and a woofer. The sats are 3″ x 3″ x 2-3/4″ with a 40mm driver. The subwoofer is a 3-inch unit measuring 9″ x 9″ x 9″.
Frequency response is 50Hz to 20kHz. Each satellite has 5W of power and the sub has 15W. Available colors are black or white and the Creature III speakers will sell for $129.99 exclusively at the Apple Store and Apple.com.
JBL, pc, Speakers