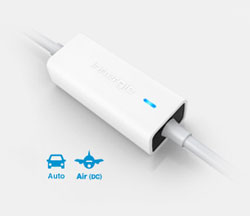 On the go types know that it can be a challenge to keep, a notebook charged up when you are in the car or in the air for most of a day. To keep working you need the battery on your notebook to last and to be able to recharge the notebook while on the go.
Innergie has announced a cool new notebook charger that is universal and claims to be the smallest charger for car and air use in the world. The device is smaller than the palm of your hand and works with machines from Dell, HP, and many more companies.
All notebooks needing 15V to 21V and up to 65W are supported. The device also has a USB port built-in for charging other gadgets like your cell phone. It is available now for a bit under $70.
charger, Notebook