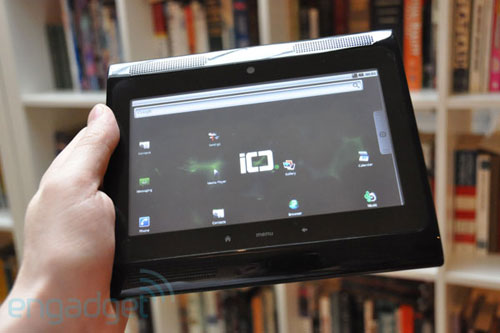 Every few weeks it seems like a fresh round of rumors about an Apple tablet sets the tech world on fire. People really want tablet form factor devices to hit the market. That fabled Apple tablet isn't here yet, but there are some other tablets that are here or are coming really soon.
Engadget went hands on with a new Android powered tablet called the ICD Ultra. The tablet has a 7-inch screen and runs the NVIDIA Tegra T20 CPU. It has 512MB of RAM and 512MB of ROM. Storage capacity is 4GB and the tablet has integrated 2G/3G radios.
Other features include a 1.3MP camera, HDMI out, USB, microSD slot, WiFi, Bluetooth, and more. The screen is a resistive touch unit and a capacitive version is said to be coming. ICD is targeting a price of $249 when the device launches and we will hear more at CES.
ICD, tablet