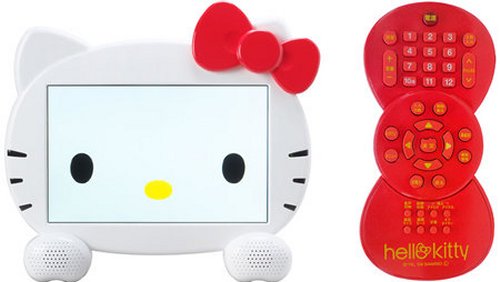 I think I just threw up a little in my mouth looking at this sickeningly cute 13 inch LCD TV with digital tuner. It's shaped like what else? Only Hello Kitty could make a grown man vomit a little. The LCD supports a resolution of 1280 x 800 pixels, a brightness of 275cd/m2, a contrast ratio of 500:1 and a lame viewing angle of 100 degrees.
It also comes with a matching remote shaped like a ribbon. The onboard speakers will deliver an output of 3W x 2 ch. More than enough for any girl's room.

The Hello Kitty LCD from Dynaconnective will sell in Japan for 49,800 Yen (or $550). I think I just threw up a little again.
Hello Kitty, LCD TV, remote