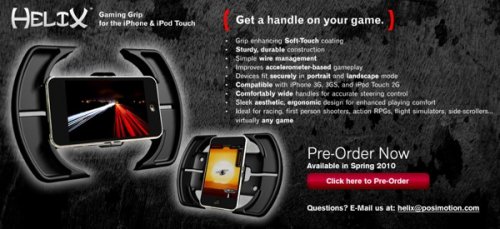 Chances are that the current iPhone and iPod touch steering wheels still don't have your attention. Maybe PosiMotion's recently announced Helix gaming grip will be the one for you. It's ideal for "virtually any game," and as a bonus, it puts your device into the cockpit of a mini Tie-Fighter.
The Helix will house your iPhone or iPod touch in either portrait or landscape mode, with a "grip-enhancing" soft-touch coating to keep your hands from slipping.

There's no word on a release date yet, but it will cost you $20. You can order one now and they will deliver it in the Spring.
gaming, grip, Helix, iPhone, iPod Touch, TIE Fighter