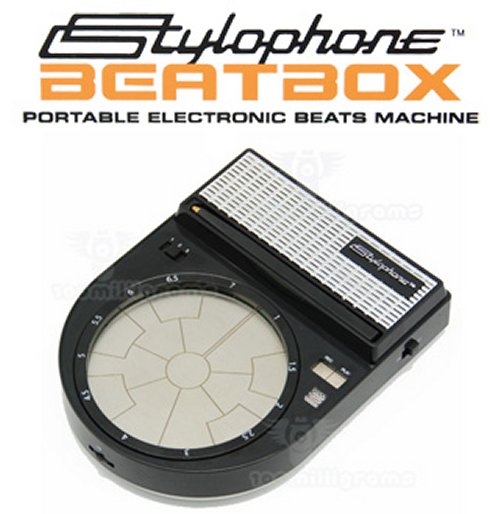 The Stylophone Beatbox was recently released, some 40 years after the original Stylophone. They sent us one for review purposes. Now I'm not musically inclined myself, but I did find the device to be fun and pretty easy to use. And despite my lack of hip musical skills, it was pretty easy to figure out and start making beats.

It's cheap too. At only $25.50 you could buy a few and have some fun with your friends. The device plays sampled sounds as you touch the stylus around the control surface and several samples can be triggered at once. That means you can really get some surprising beats going.
It even has a built-in looping sequencer and you can tap beats across three sound banks. Overall we were pretty impressed since this gadget runs on just 3 x AA batteries. We found that sometimes we had to press hard on the surface to register the sound, but that's about our only complaint. You can even put in a sample loop via the "MP3″ port.
If an amateur like me can have fun and make some beats on this thing, anybody who knows what they are doing will make some awesome music.
Beatbox, Hands on, music, Review, Stylophone