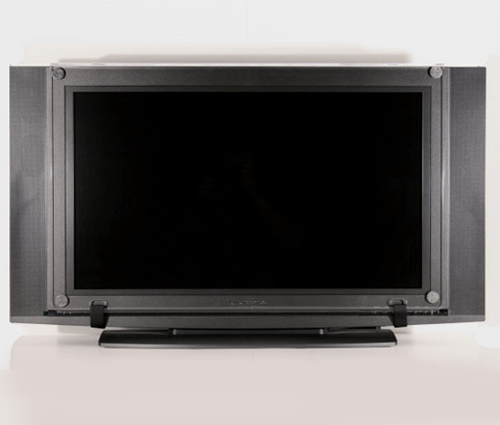 Getting a new high-end flat screen LCD, plasma or LED TV this holiday season and have kids, pets or maybe a moderately clumsy person in the house? You may want to consider protecting the display on that investment with one of these acrylic protective shields from TV Armor.
We wrote about protective products from TV Armor back in September and since then the company has really been gaining traction and popularity. Let's face it, even though flat-screen TV's are getting a little less expensive they still are certainly not cheap. The last thing you want is a pet or kids toy, or worse yet this guy over to your house and smash something into that new big screen.
The folks at TV Armor sent us a sample product and we quickly learned that this is not some cheap piece of plexiglass. TV Armor is a scratch-resistant, optical-grade acrylic shield that without the edges and pads is almost invisible when placed on our flat-screen LCD. It comes in 13 different sizes which cover flat-screen sizes from 19″ to 65″ with prices ranging from about $70 to about $290 depending on the size.
On some televisions it might cover up some buttons but it doesn't block the remote signal, and to be honest I can't remember the last time I used the buttons on my TV. TV Armor is pretty easy to install as well. It rests over the top of the display with a couple of Velcro straps to hold it in place and some pads to keep the TV from marking up the shield, and vice versa. Overall we found that if you keep the TV Armor shield clean (with an acrylic cleaner or just warm water, not window cleaner!) it provided very adequate protection of our flat-screen TV and detracted very little from the general appearance of the television. If you are still concerned about the looks when people come over, you can always just take the shield off when entertaining and keep it on the rest of the time!
LCD, LED, Plasma, protectant, TV Armor