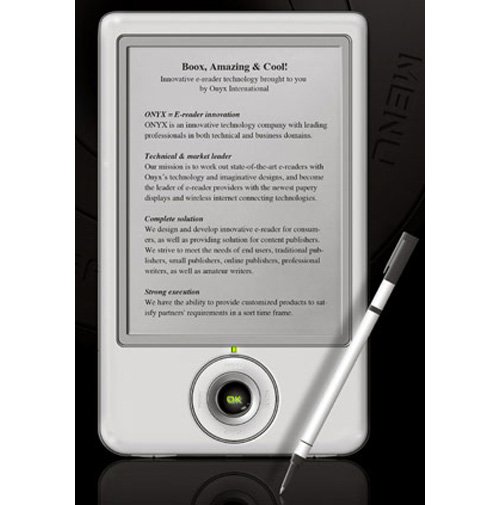 E-book readers are everywhere. So much so that they will surely survive any apocalypse, which at least gives the surviving cockroaches something to pass their time with. Dulin Books has announced that they will be shipping their own e-book reader, the Boox 60 very soon.
The device will come equipped with built-in Wi-Fi and a WebKit-based browser, which will handle news, blogs and other wiki sites along with the ability to download other content. It packs a 6″ Vizplex display with touchscreen capability, and a 532MHz processor with 512MB of internal memory(Which can be expanded with a microSDHC memory card).

No color display unfortunately, but you can enjoy 16 shades of gray. The 1,600mAh battery is said to last for more than 8,000 page turns, which is nice. The Boox 60 is $349. Shipping starts in the middle of next month.
BOOX 60, Dulin's Books, e-reader