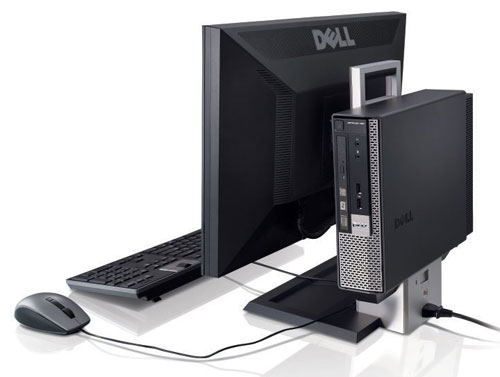 Small is big in the computer world right now. We are smitten with netbooks and their tiny profiles and thin all-in-ones are among the most popular desktops around. Dell today announced a couple new and small options for business users in its OptiPlex line.
The new machines include the OptiPlex 780 USFF boasting the claim of world's smallest fully functional commercial desktop. The machine may be small, but it uses fully-fledged hardware with Core 2 Duo CPUs and a variety of storage and graphics options. The machine also has Linux, Windows 7, XP, and Vista OS options. The Optiplex 780 starts at a MSRP of $629.
Dell also unveiled the OptiPlex 380 with a minitower, desktop, and SFF version. The machine has the same OS and hardware options as the 780 and has prices starting from $329.
Dell, desktop