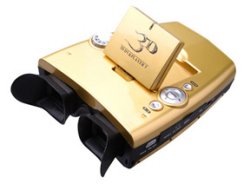 The 3Dinlife X5 Collection Version DV Player comes in 24K gold plate, with a laser etched signature and a VIP Gold Card. Wow, it must be so cool being in the rich spoiled brats club. It features an MPEG-4 recording twin lens 3D camera, with 3 megapixel JPG stills image capture.
There's also a USB interface for downloading and a rechargeable battery that will deliver 2 hours of recording onto SD/MMC memory cards. Nothing on price, but you can bet it will be expensive.

Hey, it beats a gadget covered in cheap crystals.
3Dinlife X5, DV Player, gold