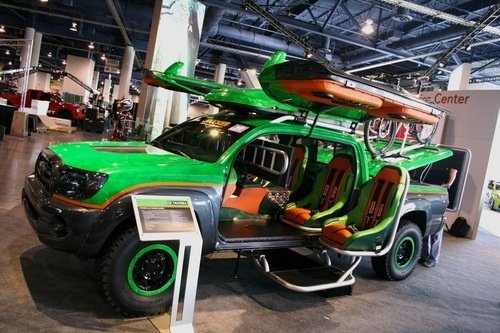 Toyota is clearly out to capture the hearts of gamers with the Tacoma All-Terrain Gamer (ATG) concept. It's a Toyota pickup with four, yes four Xbox consoles inside, a Warthog from Halo and a Monster energy drink dispenser to keep you going during your intense gaming marathons.
In the center cabin there are four 24″ LCD monitors from Samsung, which swing out to give each gamer their own display. Oh yeah and the outside is also cool to look at, despite all the action going on within.

Outside, spectators can watch on a 60″ Sharp LCD TV mounted in the Tacoma's trailer receiver hitch.
concept, Gullwing Door, Halo, Toyota, Warthog, Xbox 360