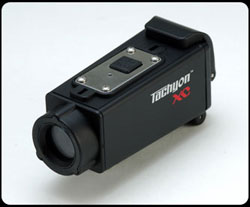 There are all sorts of sports where watching tapes of what you did right and wrong can help you improve. There are also sports where just getting film of someone crashing or doing something stupid is fun to watch. Whatever the case may be, Tachyon has unveiled new and very small camcorder that it claims to be the world's smallest helmet cam.
The camera is called the XC Micro and it measures 3.8 x 1.4 x 1.8 and weighs 3.7 ounces. It can be attached to goggles, helmets, dashboards and other locations for filming. Power is from a pair of AAA batteries and lasts for four hours of shooting.
The camera is both shock and water-resistant and has a high-dynamic image sensor and a wide-angle lens. Video is recorded in 640 x 480 resolution at 30 frames per second. Footage is stored to microSD cards up to 32GB is capacity. The camera sells for $99.99 for the rest of November before it goes back to its $129.99 price.
camcorder, Tachyon