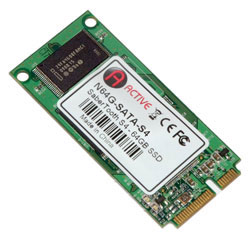 If you purchased a netbook from Asus a while back that used an SSD, you may have the thing packed with files now and be out of storage space. If so you are in luck; a company called Active Media Products has unveiled a line of upgrade SSDs that offer more performance and more storage.
The new line of SSDs is called the SaberTooth S4 series and they are compatible with the Asus S101, 900, 900A, 901, and 1000 Eee netbooks. They will also work with other machines that use mini PCIe card storage with the SATA-II interface.
The SSDs are available in 16GB, 32GB, and 64GB capacities. The SSDs also have ECC error correction and a wear leveling algorithm to extend the life of the drives. Sequential read speeds are up to 130MB/sec and sequential write speeds are up to 50MB/sec.
ASUS, Eee, SSD