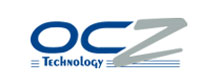 SSDs are slowly starting to replace the traditional HDD in computers and notebooks. The SSD is faster and uses less power to operate making for longer battery life on notebooks. The catch is that the typical SSD is still too expensive for most computer users. OCZ makes a line of lower cost SSDs and has announced that it has a new family of SSDs coming to market using SandForce SSD processors.
The new SSDs will debut in the coming weeks leading up to CES 2010 in January. The drives will be offered in enterprise and consumer versions using 3Gbps SATA or 6Gbps SAS interfaces. The drives will be built with both MLC and SLC NAND memory inside.
Storage capacities will range from 50GB to 400GB and pricing is unannounced at this time. The SSDs are geared towards performance and reliability in both the home and the enterprise setting.
OCZ, SSD