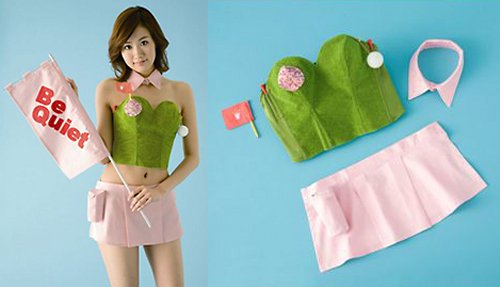 Golfers would like nothing better than to combine their sport with boobs, somehow. But that's a tall order for a sport like golf. Thankfully for golfers lingerie maker Triumph International Japan has unveiled a new concept bra designed to appeal to female golfing enthusiasts. And men who want to get them topless.
It's called the "Nice Cup In Bra," and consists of a grass-green top that, when removed, unfolds into a 1.5-meter-long putting mat. The user can then sink a putt into one of the cups, when a built-in speaker will exclaim "Nice shot."

Not the most stylish thing ever, but we certainly encourage it.
bra, Golf, lingerie, Nice Cup In Bra, putting mat