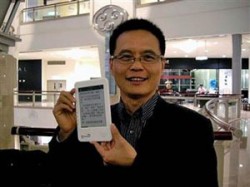 The eReader market is fast becoming the market that everyone wants to be in. In 2008 and even this year the netbook market has been where many manufacturers have flocked. It seems the eReader market is the next big thing.
DigiTimes reports that Netronix is developing a new eReader that will run the Android operating system. Netronix is working with Texas instruments to develop the readers and expects to ship a million units of the device in 2010.
The eReader is said to be interoperable with Android handsets and embedded devices. Exactly what that will allow is unknown. Netronix also plans to integrate 3G and 3.5G modules into the reader. The readers are expected to ship in mid-2010.
eReader, Netronics