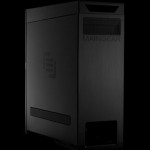 Earlier this month Maingear rolled out its Shift personal supercomputer and it was pretty impressive. With the ATI HD 5970, going live today it's natural for us to see some new gaming desktops that offer the card inside and the Shift is one of those machines.
Maingear is offering the Shift with both single HD 5970 and dual HD 5970 configurations. The dual 5970 configuration promises 10 teraflops of visual compute power. That is a lot of graphics oomph and should make mincemeat of your favorite video game.
The Shift was already a fairly expensive gaming machine so the addition of a pair of video cards selling in the $600 range each at retail adds a lot to the price. Maingear offers the dual cards as an option costing over $1500. A fully optioned machine with the two cards will run you about $6500.
gaming PC, Maingear