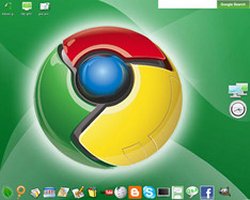 We now have more details about the Google Chrome OS, which is a stripped-down Linux that should boot very quickly and launch a browser (Chrome). Everything that you do is web-based. Apparently users will have to buy a Chrome OS machine if they want it. Chrome will run on Intel and ARM processors.
According to Google it's secure because the data is stored on a remote server, however if someone gets your password, well they have access to everything. They do say that Apps are more secure, because they have access to nothing, just like web apps on other OS.

Chrome machines are built on the premise that they will always be connected via WiFi as a primary connection, but Google is trying to make it possible to work offline too. For more details, (There are many) hit the link.
chrome, Google, OS