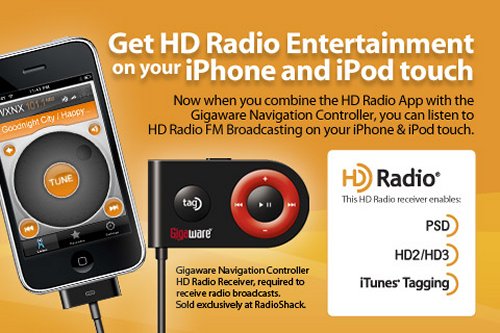 Until now, if you wanted to get HD Radio in a portable, handheld you had to buy a Zune HD. But Gigaware is leveling the playing field by opening up HD Radio to every iPod touch and iPhone user in the US.
The adapter allows any iPhone or iPod touch with iPhone OS 3.0 or greater the ability to listen to HD Radio and local FM stations. It's available now for $79.99 exclusively at RadioShack. The accompanying app has a manual tune wheel or auto-seek, social network integration, bookmarks and iTunes Tagging and can be downloaded for free.

At that price they won't move as many as they hope, that's for sure.
adapter, Gigaware, HD Radio, iPhone, iPod Touch