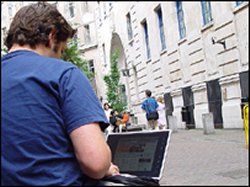 Looks like a major Wiltshire town is buzzing with excitement as they are about to become the first in the UK to be able to enjoy free public wireless internet access. Swindon Borough Council plans for all 186,000 citizens to soon be swaddled under a blanket "Wi-Fi mesh" by April 2010.
With no connection charge while line rentals are free. The service will be called Signal, but here's the catch. You will have limited access unless you pay for 20Mb upgrades. The fee is said to be "significantly less" than current broadband suppliers.

Other UK cities have had trials like this, but this is the first time an entire town will be covered by council-backed public Wi-Fi.
free, public, uk, wi-fi