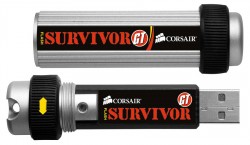 Flash drives are growing in capacity almost as fast as hard drives are for our computers. Corsair makes all sorts of flash drives from high-end massive capacity units to cheap drives that hold small amounts of data.
Corsair announced a new pair of flash drives today called the Flash Survivor GT line. The new drives are ruggedized and are water resistant and shock resistant. Just like the normal Flash Survivor line, the flash drive is secured inside a sealed aluminum tube to protect it from damage.
The new Flash Survivor GT drives are offered in 32GB and 64GB capacities. I would assume that the data transfer speeds on the GT versions are better than the standard Flash Survivor line, though Corsair offers no performance data or pricing info.
Corsair, flash drive