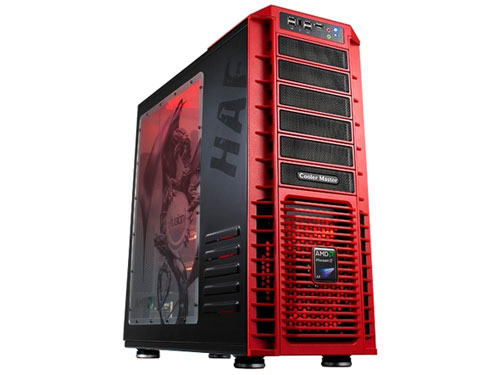 One of my all time favorite PC cases from Cooler Master was the Stacker wearing the NVIDIA green color for the trim. The special edition case was great for NVIDIA fans. Cooler Master has now unveiled a new case aimed at the AMD fan called the HAF 932 AMD edition.
The case has black with red trim and a clear side window with a frosted AMD dragon and AMD Fusion logo. The chassis also has red LED lights inside. Other features of the case are the same as the original HAF 932 chassis. The drive bays are tooless and the case has a removable HDD rack.
The rear of the case has mesh expansion covers for cooling and pre-cut holes for liquid cooling tubing. The cooling system that ships with the case has dual 120mm fans. The case is made from steel and plastic. Pricing and availability are unknown.
AMD, ATI, Cooler Master