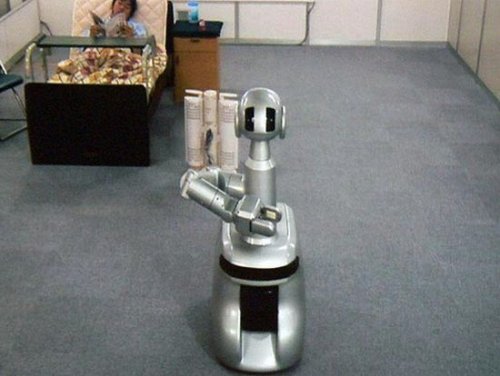 It's time for the weekly robot roundup. So what have we been doing this week over at Botropolis? Keeping our eyes on all of the usual robot slaves, of course. It's only a matter of time until they themselves become our masters and have us fetching beers and opening doors. We will be their meat-machines. When we break down, they will surgically repair us with parts from other humans, even allowing us to cheat death, until we become Zombies. At which point we will inherit the Earth once again, this time moaning and groaning and suffering their head-shots. Ain't life awesome?
Robovie's version of Mario saving the Princess.
Terminator head in a box.
Papercraft robots.

Toyota bot fetches stuff for you.
Mr. Wake Robot Alarm Clock.
The Muralizer Draws Art On Your Wall.
That's just some of what we covered this week. Have a great weekend everybody. Don't forget, you can follow Botropolis on Twitter.
We're like a Private Eye that you've hired for free to tail robots and report back to you. We have fancy Fedoras and everything.
Botropolis, clock, Muralizer, papercraft, robotics, Robots, Robovie, Terminator, Toyota