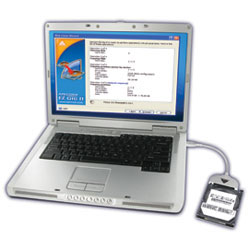 Over the last few months, there have been several new upgrade hard drives and SSDs that have been announced for notebooks and netbooks. One of the common issues for computer users wanting a larger hard drive is getting the data from their computer over to the new drive.
Apricorn has announced a new upgrade kit called the SATA Wire that is a cable that connects to the SATA SSD or HDD and to your PC USB port. The kit also includes software for Mac and Windows machines to migrate data to the new drive.
The software can move all data and files including the OS to your new drive according to Apricorn. Once the migration is complete, the user only needs to install the drive and the migration is over. The MSRP for the kit is $19.99.
Apricorn, hdd, Migration, SSD