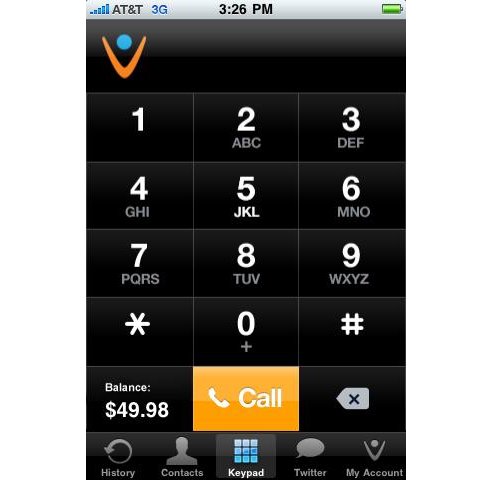 Vonage, a provider of VoIP home phone services, has announced a new mobile application designed specifically for the Apple iPhone, iPod Touch and RIM's Blackberry devices providing alternative discounted rates for international calls. The application is a free download available today available from the Vonage site or through the iTunes App Store.
The application will allow mobile users to dial international calls as they normally would with no extra steps or special numbers to enter, and those receiving the calls will see the mobile number in their callerID just like a regular international call. In the future Vonage plans on extending the offering to a monthly flat rate, but for now the discounted per-minute charges will apply.
This offering is a bit of a surprise to many as Apple had recently denied (or at least has not approved) Google's Voice App which also would allow users to make discounted international VoIP calls through their iPhone.
Users of the iPhone can make calls through a WiFi connection if they are close to a hotspot, or using their existing cellular network where normal network minutes would be used as well. Blackberry use their cellular network for the international calls and do not have the option of using a WiFi connection, and of course iPod Touch users will only be able to make the calls through a WiFi hotspot.
mobile apps, smartphone, smartphone apps, VoIP, Vonage