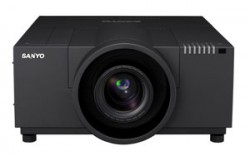 The last projector I played with was one of those tiny pico projectors that was not bright enough to use in any room with ambient light. Sanyo has announced a new projector that promises the most brightness you can get in an 110V unit at 12,000 lumens.
The projector uses two lamps to get all those lumens and offers a 4000:1 contrast ratio. Sanyo builds in its active maintenance filter as well. The projector uses the Sanyo QuaDrive optical engine that adds a yellow light controller to the red, green, and blue chips of the 3LCD system.
The native resolution for the projector is 1024 x 768 and sadly, it only supports a 4:3 aspect ratio. The thing has lots of inputs including DVI-D and more. It can throw an image as large as 600-inches depending on the lens used. The thing sells for $24,995 without the lens.
projector, Sanyo