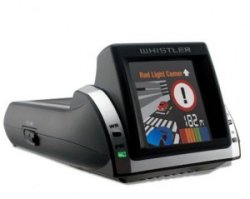 This device may have the look of a child's toy, but it can come in very handy. At any given intersection it will let you know if its being monitored by a red light camera or a speed trap. Like I said, very handy. The 1.6″ OLED display shows your car's current location and alerts you to presence of a red light camera based upon an internal database of 6,000 red light and speed camera locations.
It will notify you using either audio or visual alerts. The database can even be updated by connecting it to your computer and downloading them for free for a year. After that it's $19.95 per month.

The Red Light Camera Detector costs $199.95. Isn't it cheaper all around to just be a better driver? Hells no. Just toss $200 at this thing. Problem solved.
automobile, Red Light Camera Detector, speed trap, tickets