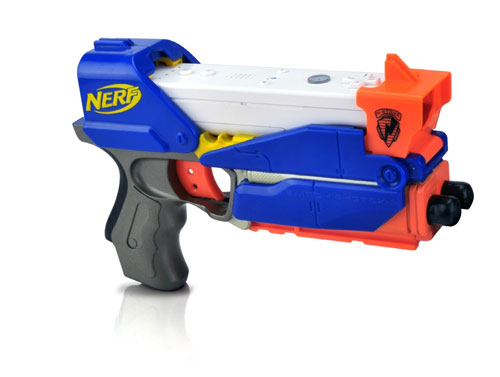 I am a big fan of NERF Blasters and we have a bunch of them around our house. You never know when you might walk around a corner and take a NERF dart to the head. PDP unveiled a new NERF Switch Shot EX-3 blaster today that also works with the Nintendo Wii.
PDP says the device is Nintendo licensed and can be used in three ways. First, it will shoot a pair of darts that store under the barrel waiting to be used. The device also has a Red Reveal used to play the NERF N-Strike Elite game from EA.
The blaster can also be used to play any Wii game that has shooting involved. The Switch Shot EX-3 is priced at $19.99. Exactly when the EX-3 will hit the market is unknown.
nerf, Nintendo Wii, PDP