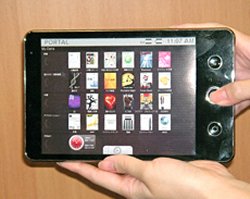 We don't have much info. Just a small image and a few specs at the moment, but it looks like NEC is working on a mobile business tablet PC that looks to be Android based. The touchscreen tablet has a 7- to 8-inch LCD display and NEC is apparently predicting that they'll eventually ship over 1m of the UMPCs each year. So they seem pretty confident.
We don't even have a name for the device yet, but it's set to go on sale in Japan this fall. NEC is boasting that it's a fast-booting device with heavy use of cloud-storage and cloud-computing "capable as a personal computer".

No pricing, or hardware specs yet.
Android, business, japan, mobile pc, NEC, tablet