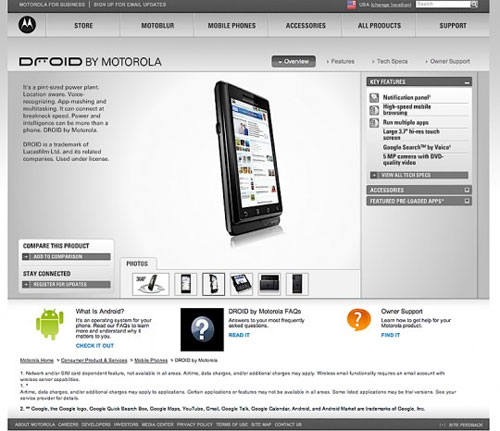 If that Motorola Droid that is aiming directly at the iPhone has piqued your interest, we have some good news for you today. Someone over at Motorola has posted the official Droid page live to the Motorola website and then quickly pulled it down.
Before the site was pulled, we had enough time to glean the important specs of the phone along with some clear shots of the handset. The device has a 3.7-inch 480 x 854 touchscreen, a 5-megapixel autofocus camera with 4x digital zoom and dual LED flash, and gets a 1400mAh battery.
Motorola figures that battery is good for about 385 minutes of talking and 270 hours on standby. The handset features a 550MHz processor, EVDO Rev A connectivity, Wi-Fi, Bluetooth, GPS, and uses a micro USB port. Storage is to an included 16GB microSD card. There is no word on pricing or official availability.
droid, Motorola, smartphone