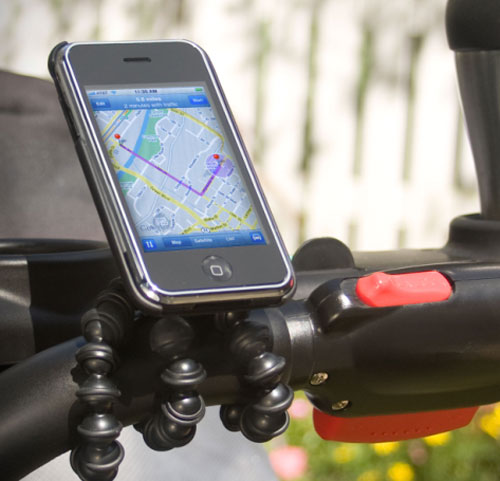 There are times when you really need some way to hold your iPhone steady while you take a picture, ride a bike, or walk while pushing something. The catch is that most tripods aren't flexible. Joby makes a line of flexible tripods called the Gorillapod camera tripods and the company has unveiled a new one for the iPhone 3G and 3G S.
The device is called the Gorillamobile for 3G /3GS, is completely flexible, and will hold the phone on most any surface that you can wrap the tripod legs around. It will hold your iPhone at the grocery store on the cart so your kid can watch video or you can use the calculator. You can also use it to support the phone while you watch movies at your desk.
In addition to the tripod, the device also has a soft-touch iPhone case with an adapter and it comes with a pair of removable 3M high bond residue free adhesive clips along with a universal adapter for a camera to allow it to be used with multiple devices. The product is available now in the US for $49.95 to $44.95.
iPhone, joby, tripod