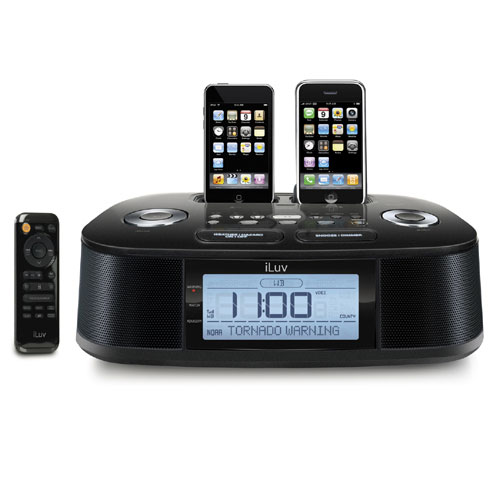 Several of the new iPhone docking alarm clocks that I have seen hit the market lately share something in common. Many of them are now sporting dual charge docks. This is a good thing since many homes now have more than one iPod or iPhone vying for that charge dock. The iLuv iMM183 unveiled today is another dual docking alarm clock with some cool features.
Perhaps the most interesting of the features aside from the dual cocks is the integrated weather band radio also with an alert system that puts weather warnings on the front of the clock. The device uses SAME technology to receive local weather info.
The dual docks both support the iPhone and the clock has a 3.5mm input for non dockable devices. The alarm clock has dual alarms and can wake you to your iPod, radio, or a buzzer. It also has a sleep timer that will allow you to fall asleep to music and then have it turned off automatically. The device is available now for $149.99.
alarm clock, iLuv, iPod