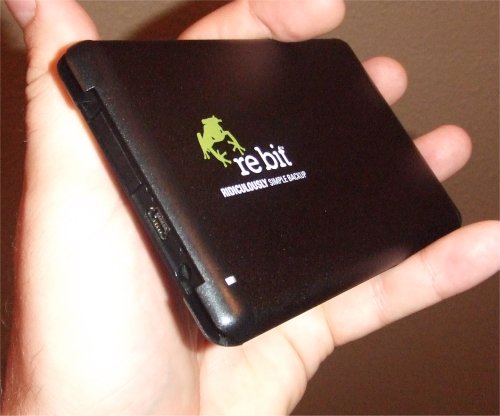 We've been hearing about Rebit and their backup solutions from as far back as October of 2007, and our time to try out one of these devices was far overdue. For this review we got a chance to review a portable backup solution from Rebit which boasts a "ridiculously simple backup" process, and they did not disappoint.
SETUP
Setting up the backup system was about as easy as it could be. We simply unpacked the small, slim portable drive and USB cable and plugged it in to our computer. After a couple of automatically prompted approvals in our Windows Vista system the thing just started doing its job of backing up all the files on the hard drive of our computer. The entire process from opening the box until it started working was under 3 minutes. The drive has a dual-headed USB cord so a separate power supply is not necessary if a single USB port does supply enough power, but in our case a single USB 2.0 connection was all it took to power the device and transfer data.
USE
Using it is pretty darn simple as well; just leave it plugged in. As long as the device is plugged in and the PC is on it will do it's job of backing up the files. The software associated with the device (which is automatically installed when its plugged in) takes away a lot of the complications of creating backups and restore points. The Rebit solution will initially create a back-up of your entire hard drive and then start monitoring for changes, additions and removal files. It keeps a history of changes for a particular file and keeps files that you've deleted should you want to restore them later on. If the drive in the rebit device gets full, it simply just removes the oldest version of files to make room as necessary, always keeping at least one backup copy of all files from your PC.
RESTORING
Restoring a file or files is as simple as using Windows Explorer and copying files. The Rebit software adds a small status display when you hover over a file, showing the number of version it has backed up for a particular file and the date it was last backed up. By simply navigating the Rebit drive to find the file, or using the right-click menu to find the date you would like to restore from, you can copy an older version of a file back to your drive.
EXTRAS
It's the little extras that always get us excited and Rebit has a few of them with this backup solution. First, for a little extra money you can optionally get a version that will backup multiple PC's. This allows you to use a single device and plug it into different PC's to back them up. The software keeps the different computer backups completely separate and automatically backs up files for the correct computer whenever you plug it in.
The device has software updates issued by the company that are automatically found and applied when available. Should you ever need to restore your entire hard drive, there is an included disk for that as well which is also subject to updates, (but you'd have to burn your own disk for those).
For those of you that already have a large hard drive you use for backups, or if Rebit's 1TB drive option is not enough for your needs you can optionally purchase just the software and use your own drive. Simply install the software while your drive is connected and it will start acting as the Rebit backup appliance. Pretty slick.
CAUTIONS
Some things to consider include the size of back up drive you would need. Be sure to get one that is larger than the hard drive (or drives) you want to back up. Rebit offers up to a 1TB device, but if that is not enough you will want to consider getting your own drive and purchase just the software. Also, keep in mind that the solution only works with Windows XP or Vista. No doubt Windows 7 will be in their future but bad-news for non-Windows folks.
SUMMARY
We found the Rebit solutions to be very easy to use and effective. This device would even make a great gift for any non-computer savvy friends or relatives help avoid losing important information, files, pictures or music from their computer. Rebit offers solutions from $150 for a 160GB portable device to about $320 for a 1TB, multi-PC desktop solution and multiple options in between. Those of you with your own drive can get the software alone for $50.
backup, Rebit, recovery