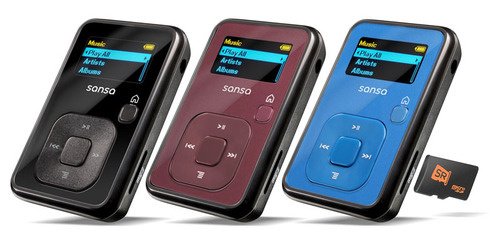 SanDisk sent us a complimentary Sansa Clip+ to check out. After using it for several days, we're ready to share our thoughts on the device. The original Sansa Clip has been a popular choice where cheap mp3 players are concerned and the Sansa Clip+ is even better.
The design beats the original, with a larger capacity and better features. The first thing that you notice is how durable this thing is. Despite it's tiny size, it looks and feels tough. It's definitely more durable than your average mp3 player. And it feels natural in your hand.

Unlike the previous version, the Clip+ has a microSD slot for expandable memory up to 16GB. The microSD slot of course also supports SanDisk's SlotRadio cards. There's a clip on the back which isn't removable, and the headphone jack is on the right side of the player, opposite the mini USB port. Another difference is that the controls are square.
As far as sound, we have to say that the clip+ has excellent sound quality. For a device this size you really don't expect much, so that was a nice surprise.
Some other features are FM radio, podcast support, and even a voice recorder. While the two-tone OLED screen won't give you a ton of details, it is nice and bright, making it easily readable. The controls could use some work and are awkward, but after you've used it for a few minutes, it's easy enough. Battery life is 15 hours and that seems about right from our use.
The Sansa Clip+ has a lot going for it and even though it has a few flaws, we think it's the best cheap mp3 player out there right now. A 4GB version costs just $49.99, 8 GB is $69.99.
clip, Hands on, MP3 player, Review, SanDisk, Sansa