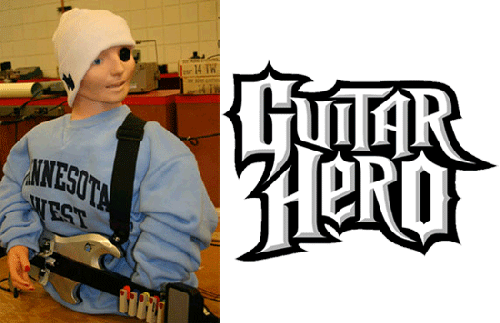 Are you getting tired of rocking fake plastic guitars yet? Good. Me too. So now it's time to build robots that can play it. Old one-eye here is basically a mannequin stuffed with robotic parts that allow it to play.
It was developed by engineering student Pete Nikrin with some help from Minnesota West Technical College. "Roxanne" responds to each note as it appears onscreen. The robot can read the notes in transitions between light and dark pixels using its left eye which has a camera implanted.

She manages 100 percent accuracy sometimes, averaging 98 percent accurate in medium mode, 95 percent on Hard mode and 80 percent on Expert mode.
guitar hero, humanoid, Minnesota West Technical College, robot, Roxanne