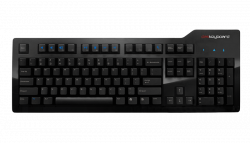 I can tell you as a person who types all day that a good keyboard can make all the difference in your productivity. A bad keyboard slows you down and makes you inaccurate. One of the coolest and most liked keyboards for heavy-duty typists out there is the Das Keyboard.
The first version of the keyboard lacked any labels on the keys, but later versions added the labels back. Today the new Das Keyboard Model S debuted with features that had been missing from previous versions of the device.
The new keyboard has full media keys, two USB ports, and an external PS/2 adapter. The new keyboard also works with KVMs and when used with the PS/2 adapter has full n-key rollover. A silent version is also available for those who don't care for clicky keyboards. The normal Model S sells for $129 and the silent version sells for $135.
das keyboard, keyboard