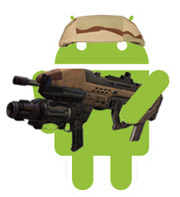 We have been fielding robots of all sorts on the battlefield for a while now, typically associated with finding and disposing of bombs and other explosive devices. I always thought when Android's hit the battlefield they would be packing laser cannons and the visage of Arnold Schwarzenegger. Apparently, the first Android to hit the battlefield will be in the form of Google's open source OS and cheap computer terminals.
Raytheon has announced its RATS battlefield networking system will be powered by Android. The system will allow troops in the field to coordinate with other combatants and gain access to other assets. Presumably, these other assets would include air strikes and drones.
The RATS system will give real time access to all sorts of data in the field. I have to wonder though, in a combat scenario how will the system be protected from unauthorized access. If a solider is killed and his RATS terminal taken what's to keep the enemy from sing our own network against us?
Android, computer, network