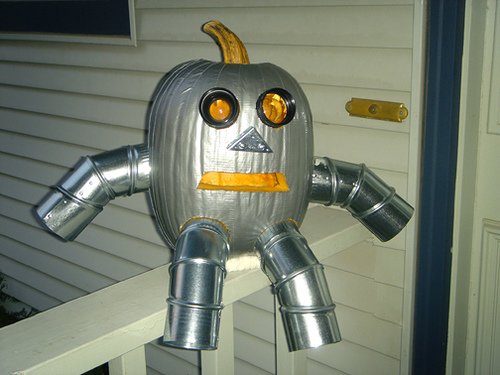 Halloween is almost here and while we all have a healthy fear of witches,ghosts,monsters and zombies, it's robots that we should really be afraid of. Robots are capable of killing every creature on that list and then turning on us.
That's why I'm proposing that we phase out all of the old monster decorations and Jack-o-lantern faces and replace them with robots. If you don't fear them now, you will wish you had feared them sooner one cool October night when a red-eyed robot TPs a house with your intestines.

On a brighter note, hit the link to check out ten classic robot Halloween Pumpkins.
art, autobot, battlestar galactica, bsg, C-3PO, cyberman, Cybermen, cyborg, Cylon, dalek, DIY, doctor who, droid, halloween, pumpkin, r2-d2, r2d2, Robots, Star Wars, Terminator, Transformers, Wall-E