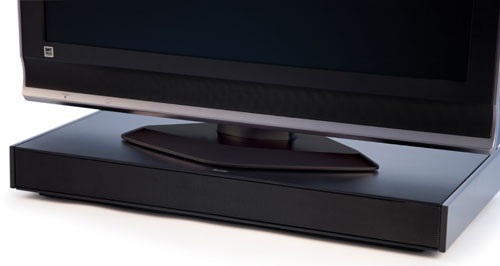 I like home theater systems, but I am not a fan of all the wires that go along with them. Wireless systems are available, but the speakers still typically need to be plugged into an AC outlet creating issues of their own.
Zvox has announced a new IncrediBase cabinet that offers a simulated surround sound experience with all the speakers needed for the system crammed into one cabinet that sits under your TV. The IncrediBase 575 has a 133-watt amp, dual 6.5-inch long-extrusion subs, and five full range speakers in one cabinet.
The five full range speakers are 2-inch units and the cabinet measures 36-inches x 16.5-inches x 5-inches. The device features an automatic on and off function and a pair of analog stereo inputs. The IncrediBase 575 will ship in October 1 for $799.99.
Home Theater, zvox