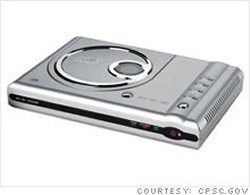 Sometimes it just doesn't pay to buy cheap electronics at Wal-Mart. The items in question are the $18 – $29 Durabrand DVD players sold in the US and the UK, which were recently recalled. 1.5 million of the units recalled to be exact, due to 12 reported cases of overheating.
They caused some property damage, but no injuries, but now, they have more reported cases of the same problem, so they've upped the recall to cover 4.2 million devices. The original recall was only for the silver units sold, but now it also covers the pink and purple DVD players sold between January 2006 and July 2009.

We are just surprised that so many of you bought these things.
Durabrand, dvd players, recall, Wal-Mart