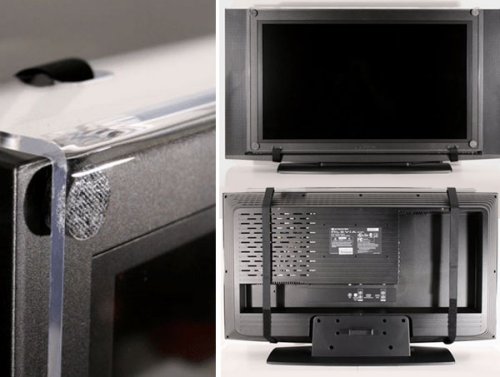 When you spend a grand or more on a new flat screen HDTV, you want to protect it right? Kids are the main threat, with their sticky fingers and their fondness for throwing things indoors. The other threat is you with your sticky fingers and your Wii addiction.
So how do you protect your TV? With TV Armor. It's a simple invention that protects your LCD or Plasma TV from cracks, scratches, dirty slimy hands and more. It does this by covering the screen with a thin durable acrylic shield. A 1/4″ thick layer of optical-grade plastic to be precise. It won't interfere with picture quality either.

Just slide the TV Armor over the top of your TV, fasten the Velcro straps, and you're done. Prices range from $69 to $289 depending on screen size. Or just don't have kids.
flat screen, HDTV, protect, tv, TV Armor