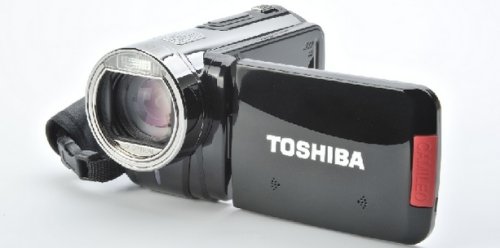 Toshiba just launched three new camcorders. The Camileo S20, H30 and X100 models. All three offer full HD (1920 x 1080p). The Camileo S20 is one of the slimmest HD camcorders in the world at a mere 17mm, while the H30 is all about "functionality with ease of use" and the X100 will get you a a decent 10x optical zoom.
If you're looking for a budget camcorder, the S20 fits the bill, with specs like a 4x digital zoom, 5-megapixel sensor and 3-inch rotating screen. The H30 sports 10 megapixels, 5x optical zoom and 10x digital. The X100 features a 10-megapixel sensor 10x optical, 10x digital and a 4GB built-in flash memory. Plus, both the H30 and X100 have LCD touchscreen panels.

It will cost you £119.99 for the S20, £189.99 for the H30 and the X100 £269.99 price tag.
Camcorders, Camileo, H30, S20, Toshiba, X100