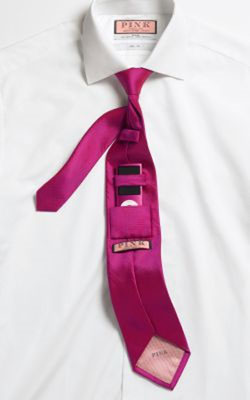 What do you do if you have to wear a tie to work, which is bad enough, and your boss is a wanker and won't let you listen to your iPod in the office? What you need is this nifty Thomas Pink tie with the hidden iPod compartment.
The tie is called the Commuter tie and has a special compartment behind the tie that holds your iPod nano securely. The tie itself is 100% silk and should look good enough on you in the office. Pink designed the tie to fit the new iPod nano, but I would assume any player of similar dimensions would fit.
There is also an extra fabric loop that keeps the wires out of sight and close to the body so nothing hangs down to tip off the boss that you are stickin' it to the man and bringing you iPod to the office anyway.
iPod, Tie