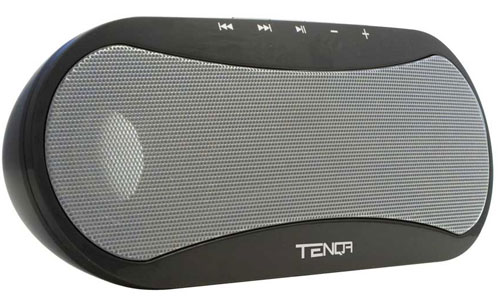 Bluetooth technology in mobile phones and MP3 players is a great thing. The tech allows us to make and receive phone calls using hands free devices and we can stream stereo music wirelessly from one device to the next.
The new Tenqa line of Bluetooth Wireless speakers debuted on Amazon over the weekend. The line includes three devices that all support Bluetooth A2DP technology. The Tenqa SP-99 Bluetooth Wireless Portable Speaker is compact and is designed to be portable. Volume and track controls are built-in to the front of the device and it sells for $79.99.
A larger wireless speaker called the SP-109 is designed to sit on a desk or a shelf and stream music from up to 33 feet from the wireless device. The device sells for $89.99. The final item is the HP-109 wireless headphones that are designed for biking and running with a wrap around design that keeps them in place. The battery is good for 15 hours of playback and 160 hours on standby. The headphones sell for $59.99.
Bluetooth, speaker, wireless