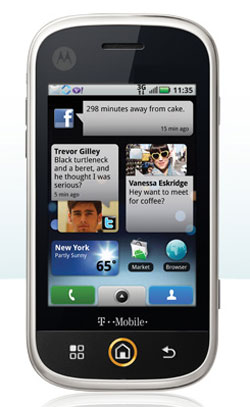 There has been all sorts of anticipation built up around the Motorola event held on the 10th where the company debuted its new Android smartphones. Among the new phones was the Motorola Cliq with Motoblur.
The handset is powered by Android and will be a T-Mobile exclusive when it hits the U.S. this fall. The handset has a QWERTY keyboard that slides out and a full touch screen display as well. Motorola designed the phone for tight integration with Facebook, Twitter, MySpace, Gmail, and other email sources. Motoblur provides access to these features without needing to open or close any applications.
Other features of the device include a 5-megapixel camera with autofocus and video recording at 24 fps. The device has a 3.5mm headphone jack, a 2GB microSD card and supports up to 32GB of memory. The handset will come in two colors including white and titanium. Pricing is unannounced at this time.
Android, Motorola, T-Mobile