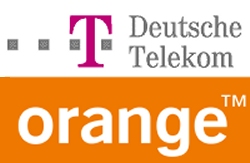 Deutsche Telekom's T-Mobile and France Telcom's Orange have announced Tuesday that they plan to merge the two mobile phone carriers, making them the largest carrier in the U.K. once combined. Currently T-Mobile and Orange are the 3rd and 4th largest mobile operations in Britain behind O2 and Vodafone. The merger would launch the combined companies into the number one spot with 28.4 million mobile phone users and a 37 percent market share, leaving O2 trailing with 27 percent and Vodafone 3rd with 25 percent of the mobile market in Britain.
The merger involves plans to maintain their own distinct brands for the first year and a half and then agree on one common brand which could be one of the two existing or something completely new. The two companies will also start streamlining their operations by eliminating overlapping administration, retail stores and base stations with lay-offs likely in the near future.
The planned 50-50 joint venture is expected to be signed by the end of October pending approval from each companies board and from the British and European regulatory committee.
Deutsche Telekom, France Telecom, merger, News, Orange, T-Mobile