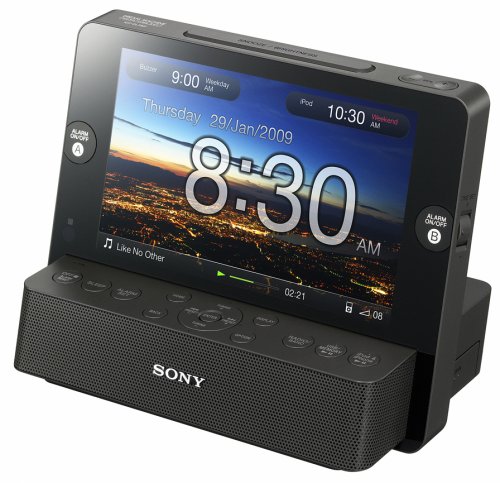 We're used to seeing alarm clocks, digital photo frames, and iPod/iPhone docks that are boring and simple. But lately manufacturers have been delivering some more elegant products. Like the upcoming ICF-CL75iP, which features a crisp 7 inch color WVGA (800 x 480) LCD, 1GB of built-in storage, and a retractable iPod/iPhone dock.
The photos on the screen can be pulled from your iPod or iPhone, or loaded onto the unit via USB. Of course, you can also store and play music and movies (MP4, Motion JPEG and AVI) on the device. They also threw in an FM/AM radio with 39 presets.

If you want more, there's also the option to wake up with the radio, iPod/iPhone, nature sounds (Sea Waves, Birds, Rain, Brook, Under the Sea), or a 10 second voice recording. No release date or price yet, but a cached SonyStyle page had it listed for $150, which is awesome.
alarm clock, digital frame, Dock, ICF-CL75iP, iPhone, iPod, Sony